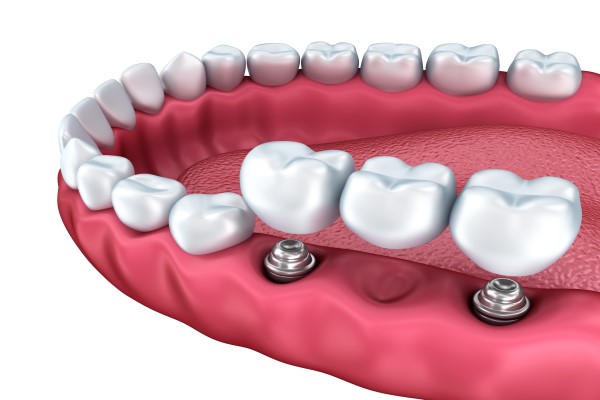 If you are seeking tooth replacement options, a dental bridge can often be the treatment suggested by a dentist. There are many benefits that come with using a dental bridge to replace one or more missing teeth. Replacing a lost tooth covers the gap left by the missing tooth to prevent the remaining teeth from moving or shifting out of place. Also, you can enjoy dental functions like chewing and speech once more.
When is a dental bridge recommended?
A dental bridge replaces one or more missing teeth in a row. It is anchored into place by each adjacent tooth on the side of the gap. This keeps the bridge steady and functional. The bridge placement procedure usually takes two dental appointments, making it a highly convenient tooth replacement choice. A patient may require a bridge if a tooth suffers such severe decay that it falls out or gets extracted, or an accident damages the tooth beyond repair.
Some of the reasons a dental bridge might be recommended include the following.
Quick procedure
A dental bridge is often recommended because it can be completed quickly. Bridges are suitable for those who have just lost their teeth and seek a fast and reliable option. Patients can get an aesthetically pleasing smile in only two appointments, whereas an option like dental implants would need at least two or more months to get a fully functioning smile since the implant needs to integrate with the jawbone.
Patient's health condition
Another reason dental bridges might be advisable is directly related to the health condition of the patient. Some patients are not able to undergo major procedures like implants due to conditions like cancer, diabetes, medications, or auto-immune disease. Also, the condition of the oral cavity may not allow for the bone grafting or implant process. Patients may need to opt for a dental bridge if they have insufficient bone, which means implant placement would require an extensive bone grafting procedure.
Number and location of missing teeth
When no more than three teeth are missing consecutively, the dentist might recommend getting a dental crown. The nearby teeth need to be strong enough to provide adequate support. Also, bridges are usually preferred for front row teeth instead of the back teeth because of the level of force bridges can withstand.
Types of dental bridges
There are different types of bridges available for those seeking teeth replacement. These include traditional bridges, Maryland bridges, cantilever bridges, and implant-supported bridges. This gives patients a variety of options, depending on their specific condition. Bridges are strong and reliable, and when produced correctly, can match the feel and appearance of the natural teeth closely.
The bottom line
A missing tooth or teeth is the basic requirement for needing a dental bridge. However, you need to find an option that works best for your smile and that also fits your preferences. The earlier you have the missing teeth replaced, the better. If you have questions, contact our dental office to schedule an appointment with our dentist, who will be ready to answer your questions and provide recommendations.
Request an appointment here: https://columbiadentaloffice.com or call Columbia Advanced Dental Studio at (410) 635-5105 for an appointment in our Columbia office.
Check out what others are saying about our dental services on Yelp: Dental Bridges in Columbia, MD.
---
Related Posts
March 22, 2017
Dental BridgesDental bridges allow us to fill the gap left by a missing tooth and connect two teeth together to strengthen the implant. This dental restoration does not move or fall out of place, requiring …