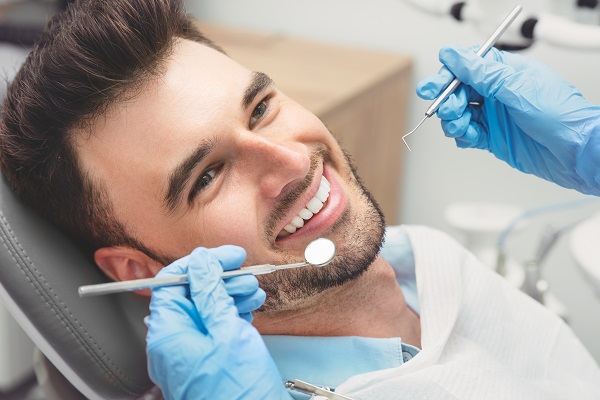 Regular dental check-ups are a vital part of maintaining and protecting oral health. These visits can prevent a problem before it occurs or help catch a problem early on when it is the most treatable. Dental check-ups aren't something to dread but are a way to keep your teeth and gums healthy. Schedule an appointment to get your teeth checked by a dentist to maintain proper oral health.
Stages of the Dental Check-up
There are two stages to a dental check-up, the examination, and the cleaning. During the examination, we will look for cavities and take X-rays if necessary. The dentist will use a metal probe with a mirror to check behind and between the teeth. This tool helps the dentist find any softening of the enamel or dentin, warning signs of cavities. The exam also involves checking gum health and looking for any swelling, redness, or sores that indicate gum problems. Periodontal charting measures the depth of space between the teeth and gums to determine the patient's gums and bone support.
The second stage of the visit involves teeth cleaning to remove plaque and tartar buildup that can cause diseases if left on the teeth. While it is important to brush and floss regularly to remove plaque, it is impossible to remove tartar buildup at home. During the dental check-up, special tools scale teeth and remove tartar. Once cleaned, we will floss and polish the teeth with a gritty paste that helps remove surface stains. A fluoride treatment may also be applied to support healthy tooth enamel and fight harmful bacteria.
A Full Examination of Oral Health
Dental check-ups are a critical aspect of preventative health care. It protects not only oral health but also overall health. During the cleaning part of the exam, special tools scrape below the gum line to eliminate any plaque buildup and tartar. This cleaning is an essential part of maintaining oral and overall health as plaque and tartar can cause cavities, gum disease, and bad breath.
The check-up also involves examining the face, neck, and mouth for abnormalities and evaluating the risk of developing other oral health problems. In addition to looking at the teeth and gums, the dentist will also look for oral cancer signs using a special light to detect dead tissue. X-rays may also be necessary to catch problems that would not be noticeable otherwise, like abscesses, cysts, and decay between teeth.
Future Dental Appointments
The last part of a dental check-up is scheduling the next appointment. Although dentists generally recommend a check-up every six months, it varies for each person due to individual risk factors and circumstances. Typically, a six month recall period allows us to detect any possible dental problems. A dental professional may determine a different interval based on the patient's needs.
Schedule A Dental Check-up Today
Getting your teeth checked regularly is a necessary part of improving and protecting your oral health.
Since problems in the mouth can affect the rest of your body, regular check-ups to examine and clean your teeth are important to maintain overall health and wellness. These appointments allow dentists to detect any issues and prevent future ones. Keep your teeth and gums strong and healthy by scheduling a dental check-up today.
Request an appointment here: https://columbiadentaloffice.com or call Columbia Advanced Dental Studio at (410) 635-5105 for an appointment in our Columbia office.
Check out what others are saying about our dental services on Yelp: Dental Checkup in Columbia, MD.
---
Related Posts
November 11, 2020
While many people believe that at-home oral hygiene is enough to maintain good oral health, regular dental cleaning appointments are actually crucial. Without regular dental cleanings, the teeth and gums are susceptible to infection and …