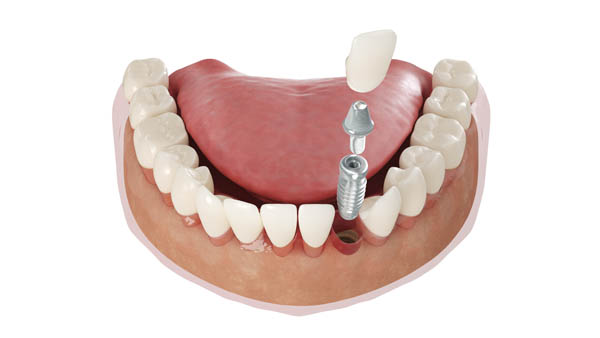 Choosing an implant dentist is something many people do when they are in need of tooth replacement services. Since general dentists who place dental implants are also known as implant dentists, this type of dental professional is one that is commonly chosen. Ready to learn more?
About dental implants
Want to find an implant dentist so you can decide whether or not dental implants are the right choice for you? There are a few different options for replacing missing teeth, making it necessary for those in need to understand their options. Implants are one of the more popular replacement options people are choosing to replace their missing teeth, as they offer multiple benefits. Since there are a variety of different implant placement options, patients have the choice between having them placed in their jawbone or having them placed in their gums.
About subperiosteal implants
Subperiosteal implants are an option for dental patients who do not want to undergo the surgical process of having implants placed into their jawbone. This may occur because they do not want to spend the time it takes to have implants surgically insert into their jawbone, as this implant process can take anywhere from four to six months to complete. It also may occur because they do not have a sufficient amount of jawbone. While jawbone restoration is an option, this procedure adds many more months to the surgical implant process.
Subperiosteal implants allow patients to still get the benefits of using dental implants to replace their missing teeth. Instead of needing to undergo a surgical process to place the implant, a dentist can install a metal frame underneath the gums, which means the frame sits on top of the jawbone. Once the gums fully heal over the frame, the dentist can begin the implant choice that procedure. This less invasive tooth replacement option is becoming more popular, as more dental patients are now looking into their minimally invasive dental procedures.
<3> Dental implants support dental cosmetics
Many people who are missing one or more of their teeth choose implants because they are an ideal cosmetic option for improving the appearance of a smile. Having an attractive smile is the main focus for many dental patients, and it is easier than ever for someone to improve their smile due to the many different types of dental cosmetic options now available. In order for dental patients who are interested in undergoing this tooth replacement option, they need to first be approved.
In need of cosmetic treatment?
Ready to choose an implant dentist to get the tooth replacement services you need? Now that the above information on dental implants has been read, it is understood that dental implants are one of the more popular tooth replacement options people are choosing nowadays. Those who are considering this common cosmetic option for replacing teeth need to visit a general dentist for more individualized information.
Are you considering using an implant dentist in the Columbia area? Get more information at https://columbiadentaloffice.com.
Check out what others are saying about our dental services on Yelp: Implant Dentist in Columbia, MD.
---
Related Posts
March 11, 2022
Looking for an implant dentist? Implant dentists help patients with one or more missing teeth. An experienced implant dentist ensures the implant process is safe and effective for all patients, communicating with …