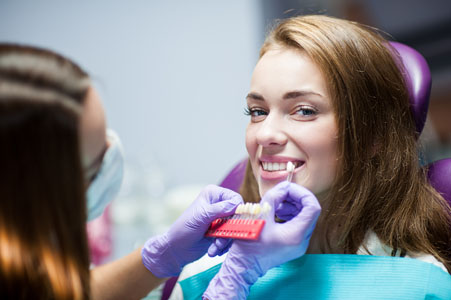 If you are interested in a smile makeover, give our Columbia dental office a call. We can transform dull, stained, or damaged teeth into a truly stunning smile. Our procedures can turn back the clock and provide you with a youthful smile that is also flawless. Since there are multiple ways to do so the best way to get started is to schedule a consultation and dental exam. We will first want to conduct a physical examination and take x-rays. This will allow us to see if you have any oral health problems that need to be addressed first. It will also allow us to create a plan for how to address all of your health and aesthetic concerns. To get started, give us a call. In the meantime, here are a few of the procedures that we often use to achieve a smile makeover.
Dental bonding. This solution is one of the least invasive ways to improve your smile because it involves simply roughening and moistening your teeth prior to placing bonding material on top of them. This material is then shaped in place and hardened. It is such a fast process that you can visit our office with a damaged or stained tooth and leave with a restoration that same day. We can use bonding to restore damaged teeth, close gaps between them, and even as part of a contouring and shaping procedure so it is a fairly versatile solution.
Dental veneers. If you have gaps between teeth, teeth that are crooked, misshapen, damaged or stained, we can cover them with dental veneers. This is perhaps the most common way to complete a smile makeover because veneers are a thin porcelain shell that is bonded to the surface of the teeth. As a result, you do not see your natural teeth but only the veneers. They are such a popular solution that many Hollywood stars have used veneers to complete their own smile makeovers. Do a Google search for the early years of your favorite celebrities and compare their smile with what they have now to see an example of this. You may be surprised by how big of a difference cosmetic dentistry can make.
Dental crowns. A crown is a cap that surrounds the tooth; so if you have any damage that is more extensive, this may be a better solution for you than dental veneers. Since it protects your tooth, you can bite down with force and the crown will simultaneously improve the appearance of your tooth. We may use a crown on a damaged tooth while improving the others with dental veneers.
Teeth whitening. No smile makeover is complete without a teeth whitening procedure. We can use our professional grade whitening solution to remove stains and deep discoloration from within your teeth so that they sparkle as brightly as they did when you were a child. The results are truly dramatic and the procedure can be completed quickly.
To start your smile makeover, give us a call today.
---
Related Posts
January 16, 2018
If you do not love your smile, do not fret. All sorts of dental treatment options are available to enhance the look of your smile, from teeth whitening to contouring, reshaping, bonding, cosmetic gum surgery …
---