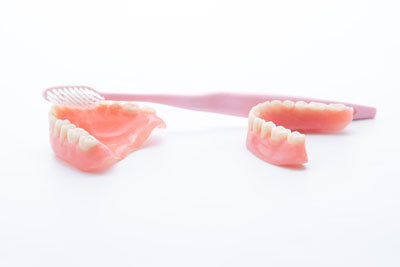 As a dentures dentist, we can fit you with a prosthetic device that can give you back the functionality of a full set of teeth. While no one likes to consider tooth loss, a majority of adults will lose at least one tooth in their lifetime, making dental prosthetics a necessary part of aging.
As technology continues to improve the dentures, they are now more natural-looking and comfortable than ever before. When you visit Columbia Advanced Dental Studio, we will ensure to create them to your exact specifications with a natural-looking appearance. If one takes care of the dentures, they can last for five years or longer. Here are a few care tips for you to try at home.
Brush them daily
Most people understand how important it is to brush their teeth in order to prevent cavities. While dentures cannot become infected, any remaining teeth a patient has can. Also, the patient can still experience gum disease. Thus, it is necessary to brush both dentures and gums using a soft toothbrush that does not scratch the dentures. The same is true for toothpaste as it can scratch the dentures, so use water or a special denture paste.
Handle with care
Since dentures can break, the patient needs to handle them carefully. When a patient takes them out to clean them or to clean the gums, the patient needs to place them on a clean towel and be careful not to drop them or bump them off of the counter. If a patient does damage the dentures, they need to visit our office right away to see a dentures dentist.
Use a denture cleaning device
If brushing the dentures alone is not enough to get them sparkling, then the patient can use an ultrasonic cleaning device. This looks like a small cage for the dentures. With the use of ultrasonic waves and a cleaning solution, the dentures can look better. This should not, however, replace daily brushing.
Keep them moist
It is important for patients to take their dentures out at night so they can soak. Patients can do so by placing the dentures in a special solution or water. Which one is right for a specific set of dentures will depend on the type the patient has and whether or not the dentures have any metal clasps. As a dentures dentist, we will provide patients with more specific instructions during the dental appointment.
Schedule an appointment today
Our goal is to help you to have lifelong oral health, ensuring your dentures do not interfere with your ability to eat your favorite foods or smile with confidence. To do so, we will make sure the dentures fit securely when we first adjust them for your gums. We also recommend that you come to our office about twice a year for a dental examination.
This way, we can examine your gums and dentures to ensure they are still fitting properly. It is possible for your jawbone to suffer from resorption and to shrink over time. This can make your dentures loose and cause gum irritation. By examining your dentures and teeth regularly, we can let you know if any adjustments are necessary.
---
Related Posts
October 6, 2021
Have you thought about getting dentures to fill in those embarrassing gaps in your mouth? Perhaps you have been wondering whether this is the right choice for your appearance and health. The …
---